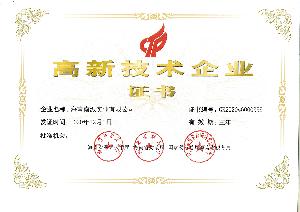 好消息!
好消息!
海南南派实业有限公司
喜提"国家高新技术企业"啦!
GOOD NEWS!
Hainan Nicepal Industry Co., Ltd
is pleased to be awarded the title of "National High-tech Enterprise"!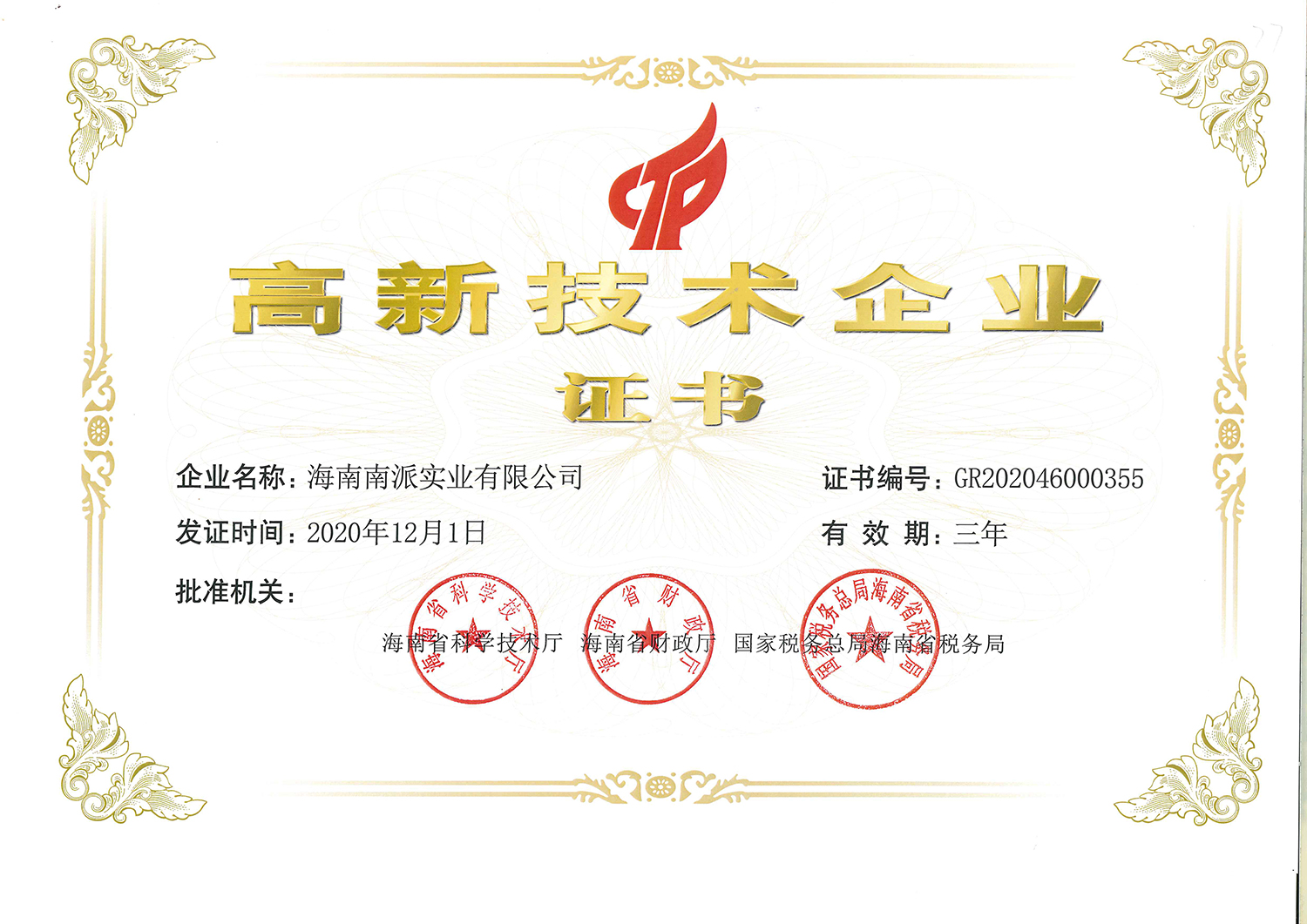 在我国,高新技术企业一般是指在国家颁布的《国家重点支持的高新技术领域》范围内,持续进行研究开发与技术成果转化,形成企业核心自主知识产权,并以此为基础开展经营活动的居民企业,是知识密集、技术密集的经济实体。
In my country, high-tech enterprises generally refer to the resident enterprises that continue to carry out research and development and the transformation of technological achievements, form the core independent intellectual property rights of the enterprise, and carry out business activities based on this within the scope of the "High-tech Fields Supported by the State" ,and they're knowledge-intensive and technology-intensive economic entities.

高新技术企业认定是国家对公司的认可和肯定,是企业发展的根本动力,更是企业不可或缺的硬招牌,对企业的发展起到重大的影响力。
High-tech enterprise recognition is the state's recognition and affirmation of the company, the fundamental driving force for the development of the company, and it is an indispensable hard sign for the company, which has a significant influence on the development of the company.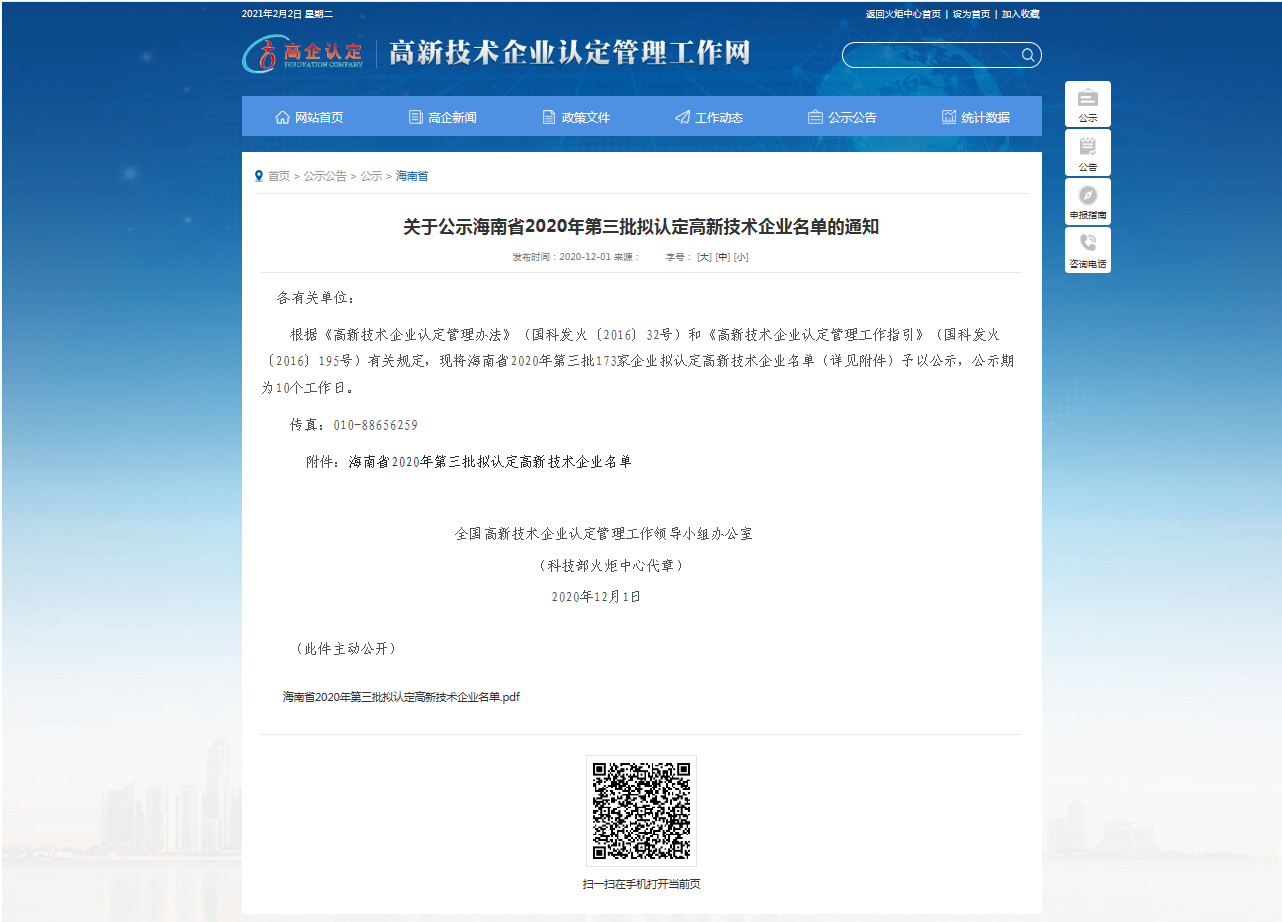 根据《高新技术企业认定管理办法》(国科发火〔2016〕32号)和《高新技术企业认定管理工作指引》(国科发火〔2016〕195号)有关规定,全国高新技术企业认定管理工作领导小组办公室下发了《关于公示海南省2020年第三批拟认定高新技术企业名单的通知》,海南南派实业有限公司顺利通过了高新技术企业认定。
According to the relevant provisions of the "Administrative Measures for the Recognition of High-tech Enterprises" (Guoke Fahuo [2016] No. 32) and the "Guidelines for the Management of High-tech Enterprise Recognition" (Guoke Fahuo [2016] No. 195), the office of the Leading Group for National High-tech Enterprise Certification Managemente issued the "Notice on Publicizing the List of the Third Batch of High-tech Enterprises to be Recognized in Hainan Province in 2020", and Hainan Nicepal Industrial Co., Ltd. successfully passed the high-tech enterprise certification.

海南南派实业有限公司,专业生产椰浆粉、热带果蔬粉、椰蓉和速冻水果原浆等等。公司自创建以来始终坚持"诚信天下,利国利民"的经营理念,始终坚持以绿色、健康、营养的产品理念满足消费者的需求,为大家提供原汁原味的好原料。
Hainan Nicepal Industry Co., Ltd. specializes in the production of coconut powder, tropical fruit and vegetable powder, desiccated coconut and frozen fruit pulp, etc. Since its establishment, the company has always adhered to the business philosophy of "integrity in the world, benefiting the country and the people", and has always adhered to the green, healthy and nutritious product concept to meet the needs of consumers and provide you with original and good raw materials.

获此殊荣,是社会各界以及广大客户对海南南派公司的支持与肯定。"国家高新技术企业"不仅是一种荣誉,更是一种责任,既是对海南南派公司的研发能力和整体技术水平的肯定和认可,也是对公司研发创新人员的一种激励和鞭策,给广大客户提供了信心保证,增强了员工的积极性,同时标志着我司的研发技术能力已经迈向更高台阶。
Winning this honor is the support and affirmation of Hainan Nicepal Industry Co.,Ltd from all circles of life and customers. "National High-tech Enterprise" is not only an honor, but also a responsibility. It is not only an affirmation and recognition of Hainan Nicepal's R&D capabilities and overall technical level, but also an incentive and spur to the company's R&D and innovative personnel. The majority of customers have provided confidence assurance, enhanced the enthusiasm of employees, and at the same time marked that our company's R&D technical capabilities have reached a higher level.
海南南派公司一直秉承着公司信念,不忘初心,坚持做好产品,竭尽所能地为客户提供更优质的产品和更好的服务。
Hainan Nicepal Industry Co.,Ltd has always been adhering to the company's belief, not forgetting its original intention, insisting on making good products, and doing its best to provide customers with better products and better services.